What FreedomSoft brings to the table is an All In One, lead conversion system custom fit for real estate investors. What's unique about FreedomSoft is the ability to go from Zero, meaning you have no leads, to basically whatever speed you want you and your team to run at.


From lead generation ,to marketing, to contact management, to automated follow up, to websites, to a phone system, to an email system, to deal evaluation and due diligence, to websites, to an internal contract and document generator, to a built in electronic signature feature, to our free iPhone and Android mobile apps...investors all across the country are finding FreedomSoft to be their solution for running their entire business on 1 platform.


Gone are the days of investors and agents working with 5+ different software programs and trying to get them all to communicate with each other.


If you are tired of being a part time IT manager and want to simply run your real estate investing business, FreedomSoft is the tool for you.
Our main dashboard below was designed to work from left to right.

The Tools and Marketing tabs start on the far left since this is where deals begin. In these tab you have multiple options to begin generating leads and lead lists using various, internal tools.
From there, your leads will be managed and kept organized in the Leads tab. This is where your marketing and active follow up takes place as you work to convert Prospects to Leads.
Continuing to the right, the Properties tab is where your live deals can be managed through to closing. The Leads tab is for the acquisitions side of the business where you are working to get deals under contract. The Properties tab is for the dispositions side of the business where you are working your deals under contract through to closing.
The RehabbersGPS tab contains FreedomSoft's Rehab Estimator and Deal Analyzers that allow you to run the numbers on deals all across the country quickly and accurately.
And then the Buyers tab where you can store your entire buyers list making it very easy to get a message to them as you put new deals under contract.


This is what we mean by the software working from left to right. The tabs have been built in the order that you'll actually be using them.


The 3 remaining tabs are labeled Contacts, Reports and Resources.
The Contacts tab is where you can store all relevant contacts for your business like title companies, contractors and property managers.
The Reports tab will generate usage reports on FreedomSoft's internal phone system.
And the Resources tab is where you'll find our Helpdesk (https://helpdesk.freedomsoft.com/hc/en-us), a link to our private Facebook that you should absolutely join if you haven't already and then the Classroom which has various trainings on investor topics.


If you go to your name at the very top, middle of the screen when logged in, you can click on Settings to access many of the "behind the scenes" features that FreedomSoft has to offer.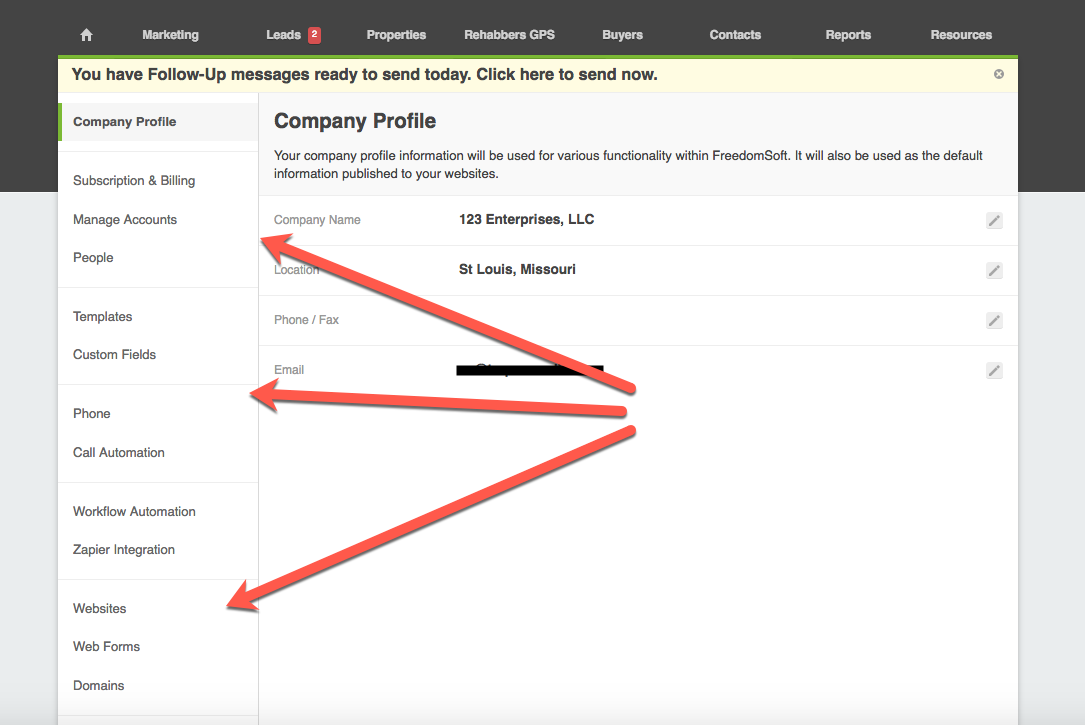 Here is a quick recap of what each page does within your account.


Company Profile - allows you to enter your company info for billing purposes. It it also where you can edit the email address tied to your account. Click the little pencil icons to edit and make changes to anything on this page.


Subscription and Billing - this is where you can update and edit your FreedomSoft subscription along with the credit card(s) that you choose to have on file.


Manage Accounts - those of you with a Coach's account will see this option in Settings and is where you can track all of your student sales internally. If you have students or an audience and would like more info on our Coach's Accounts, please email support@freedomsoft.com and our team will be happy to assist with any questions you may have.


People - this is where you can not only add team members to your account, it's also where you can control their permissions and access levels. Not everyone on every team needs to see everything so FreedomSoft gives you full control when it comes to adding team members to your account.
- To see how to add People to your account, CLICK HERE.


Templates - there are 3 template types that can be managed in FreedomSoft; Document, Email and Direct Mail.
- To see how the internal Contract and Document generator works, CLICK HERE and HERE.
- To see how FreedomSoft's Direct Mail system works, CLICK HERE.


Custom Fields - FreedomSoft allows you to customize the software if so desired. That said, FreedomSoft will also work right out of the box so don't feel like you need to customize your account. You don't. We just want you to know what options exists should you choose to.
- To see how to edit Custom Fields, CLICK HERE.


Phone - this is the page where you can manage the phone system tied to FreedomSoft. Everything from adding new numbers to editing the settings for those numbers.
- To see how to add and manage phone numbers, CLICK HERE.


Call Automation - this page allows you to set up and edit call automaitions within the system. The way it works is you'll build the automation and then once built, that automation can then be connected to any or all of the numbers in your account.
- To see how Call Automation works, CLICK HERE.
- To see how our advanced Call Automation works for teams, CLICK HERE and HERE. These automation options come with our Max Professional and above level accounts. Feel free to email our support team at support@freedomsoft.com with any related questions.


Workflow Automation - in FreedomSoft, you'll be managing your prospects and leads to Status. When you do that, you can keep everything organized whether you have 10 or 10,000 records in your account.
- To see how Workflow Automation works, CLICK HERE.


Zapier Integration - FreedomSoft is connected to Zapier with both triggers and actions available. To see a full list, log into your Zapier account, create a new Zap and select FreedomSoft for both the trigger and the action and you'll see the options available in the drop down. FreedomSoft can be connected automatically to just about any 3rd party tool using Zapier.


Websites - this page allows you to add and edit your FreedomSoft websites.
- To see how websites work, CLICK HERE.


Web Forms - this page allows you to view, edit and build web forms that can be used to capture just about any lead type that you want. The 3 most common for real estate investors are Seller, Buyer and Private Lender leads.
- To see how web forms work, CLICK HERE.


Domains - this page allows you to store and manage your domains whether you own them through FreedomSoft or not.
- To learn more about Domains, CLICK HERE.
In summary, you'll see that FreedomSoft has the tools to run and manage your entire team, no matter the size. Whether you work the business individually or have a team of 25+, your FreedomSoft account has been equipped to help you find and convert real estate prospects and leads into deals.