The Workflow Automation tool in FreedomSoft benefits you in 2 ways. First, it provides the Statuses that you'll use to keep your leads organized.
And second, it provides automated follow up which is an absolute must for closing more deals. Rob, the owner of FreedomSoft, has been tracking his closings for about 25 years now and 66% of the deals he has closed have all come through follow-up. "The fortune is in the follow-up"...it's absolutely true and FreedomSoft does it all for you.
How To Add/Edit Workflow Automation
1) To access the Workflow Automation tool click on your name in the upper toolbar, click on Settings, and then Workflow Automation on the left-hand side of the screen.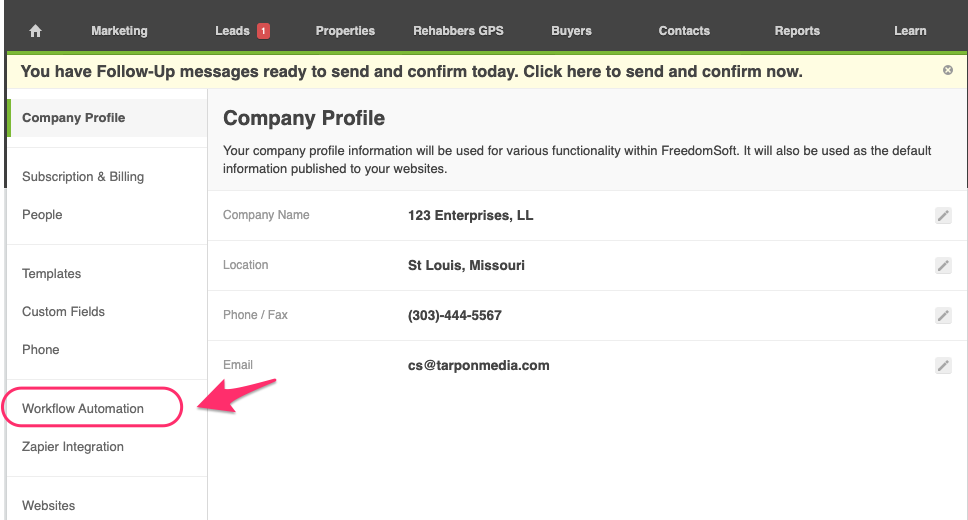 2) You will see one Workflow Automation already populated which is the one that Rob, the owner of FreedomSoft, uses and comes with your account. You have the following options:
Use Rob's out of the box Workflow as is.

You can edit Rob's to your liking.

Create your own customized Workflows by clicking the blue New Workflow pictured below.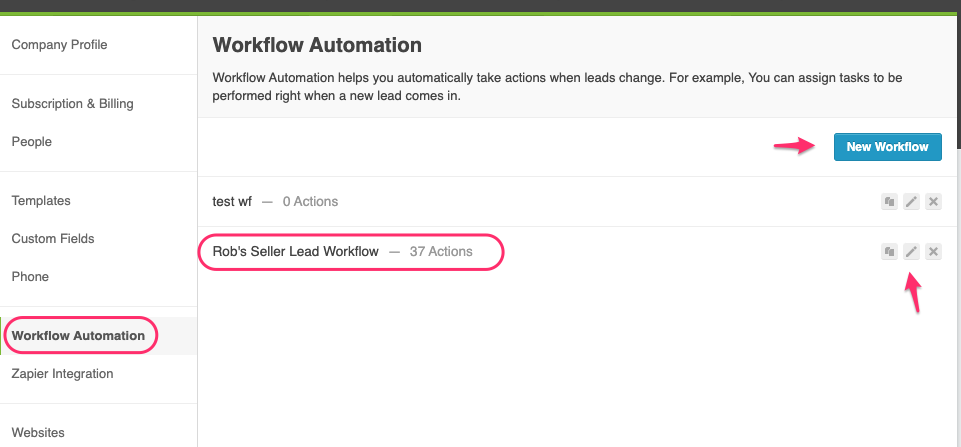 NOTE - If you just want to use a system that already works, and not have to fiddle with the technology, use Rob's Workflow. It's already built for you and works great and there's really no reason for you to keep reading. If you like to customize technology, go ahead and keep reading and the tutorial will show you how to customize your Workflows.
3)The workflow represents the different Statuses that your leads can be in from New all the way to Closed and everywhere in between. Below you can see the different Statuses.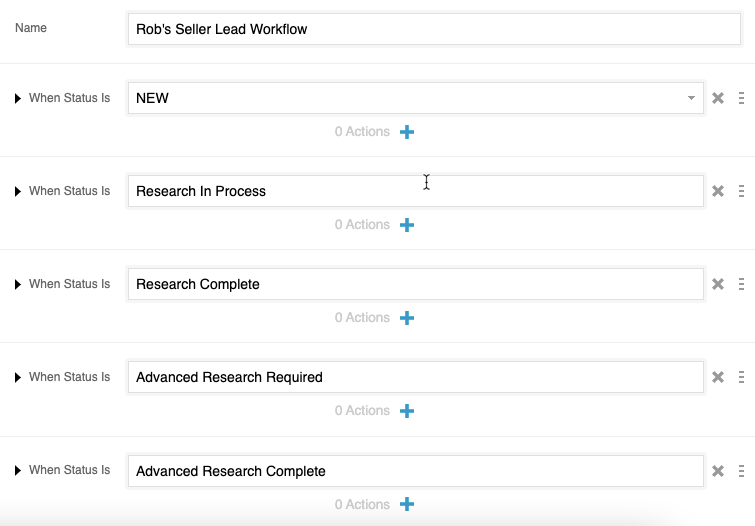 Then you'll see that some of the Statuses have action items tied to them. You can see what those action items are for each Status by clicking on the little black triangles.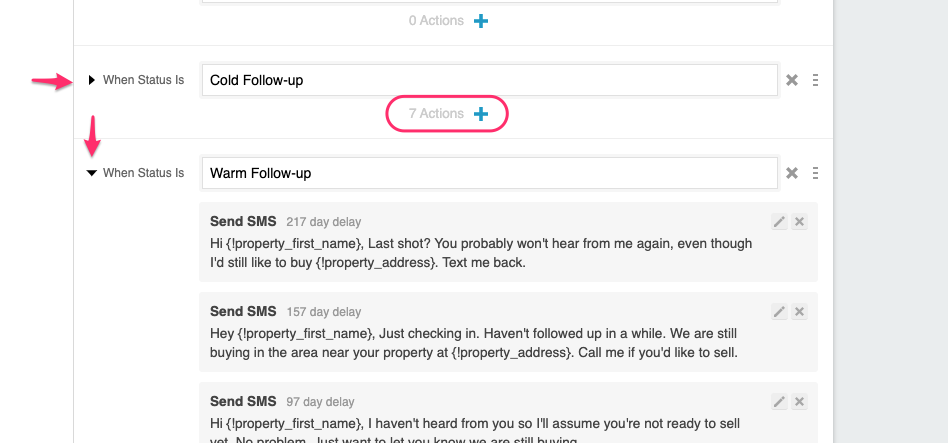 The way this Workflow Automation tool works is you simply manage your leads to Status and then FreedomSoft will perform the attached action items for you. This is how automation is brought into your lead management.
4) The actions are all triggered by the Status. What you'll do is manage your leads to Status and then FreedomSoft will automatically perform the action items tied to that Status.
There are 15 different action items that can be associated with each Status. You can see them by clicking on any of the blue + signs.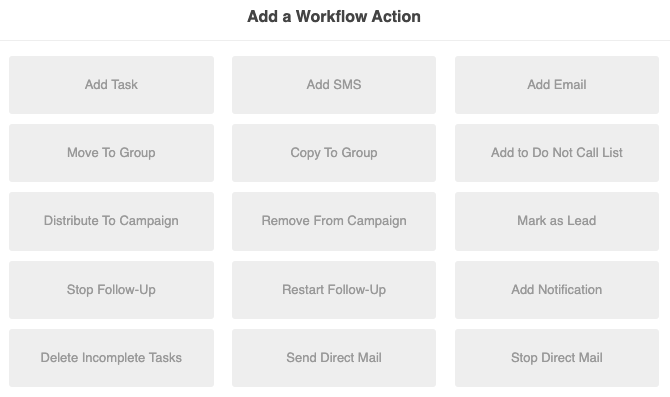 Add Task will automatically create a task for you or anyone on your team. You can set a delay and reminder for each task as well.

Add SMS will automatically queue up a text to be sent according to the set delay.

Add Email will automatically send an email according to the set delay.

Move to Group will automatically move the record into a group of your choice.

Copy to Group will automatically copy the record into a group of your choice.

Add to DNC will move that record's numbers to the DNC list.

Distribute to Campaign will move the record into a Pipeline Channel (List, Campaign, Workspace)

Remove from Campaign will remove the record from a Pipeline Channel.

Add Notification will send you or anyone an email notification.

Delete Incomplete Tasks will remove any tasks that are not completed yet for the record.

Start Direct Mail will add the record to a Mail Sequence of your choice.

Stop Direct Mail will remove the record from all Mail Sequences.
If you plan to edit and then build your own Workflows, we recommend that you study Rob's first to see how it comes together. This will give you some great ideas on what can be done and how the different action items can be used together.
5. Once Workflows have been built, they get connected at the Campaign level. On the right side of each Campaign screen, you'll see a drop-down for Workflow Automation.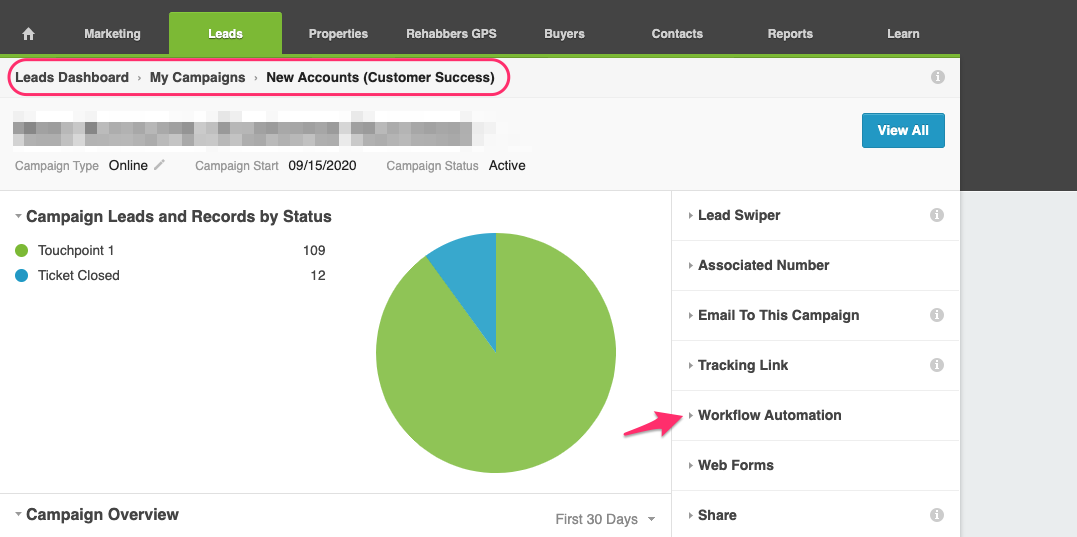 Please note: Rob's will get automatically connected to every new campaign that you create so if you're using his, there's nothing for you to do. If you build out your own, however, you will need to select the Workflow(s) using this drop-down for each campaign that you want them connected to.
Pro Tip:
One final note is that you'll see a little Duplicate icon on the Workflow Automation screen.
This can be used to duplicate an entire workflow without having to rebuild it. The reason here could be if you have an acquisitions team with multiple people on it and maybe you want the automated messaging to come from each person individually. You could simply duplicate the Workflow and then go through to edit the "From" person for your text and email follow up messages.
Check out the video below where you'll see how you can use our statuses and follow up sequences or build out completely custom ones of your own.