To unlock your phone system's full capabilities, a completed Phone System Setup is now required by all online phone providers and mobile carriers. By completing this 2 step process, you will access two benefits inside of FreedomSoft.
Your phone numbers will be attached to your business therefore allowing Shaken/Stir protocols to attach to your outbound phone calls. When this is activated your outbound calls will less likely be seen as a SPAM Likely Risk to the mobile carriers.
When you have an approved Business Registration your outbound SMS-sending capabilities will be activated.
***NOTE: To complete Step 1, you will need an EIN (employer identification number). If you don't have one, you will need to set up an entity and file for an EIN with the IRS. Check your Secretary of State's website for the State where you would like to register your entity.
Complete Your Phone System Setup
1. Navigate to Settings in the top right hand corner of FreedomSoft

2. In the left side options select "Phone". Within the this area you will be able to click on the Phone System Setup tab.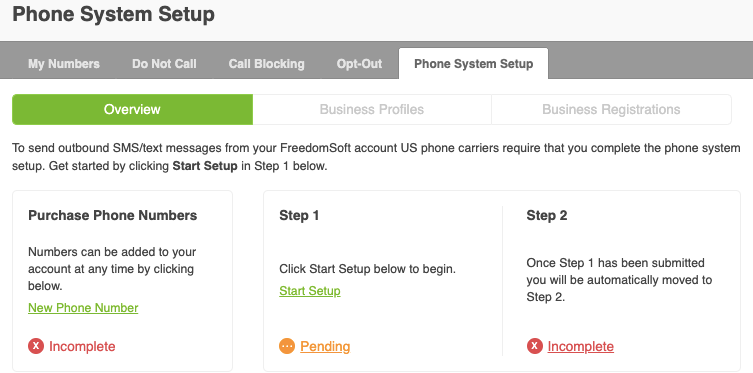 3. Follow the instructions by clicking the Start Setup button within Step 1.

4. From here fill out all required fields under Business Address, Business Details, and Authorized Representative then click Submit Step 1. You will automatically transition into Step 2 after submitting.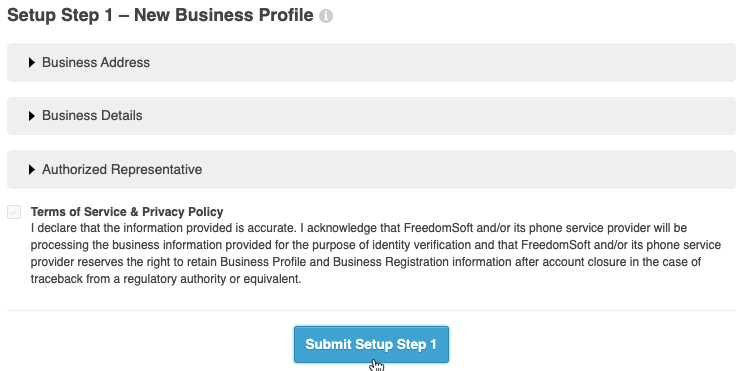 FOLLOW THESE TIPS WHEN SETTING UP STEP 1
Be sure to enter your company name, address, and all other info EXACTLY as it reads on your EIN documentation. Example: If your company name is "ABC Investments, LLC" - do not enter "ABC Investments" for short. Type out the entire company name.
Add your company name to your website. At a minimum, enter the name in the footer of your web pages and if possible, add it to the header as well.
5. In Step 2 you will be ask to finish your Registration. Fill out all required information and select Submit Step 2 Payment.
6. Once both Steps are Complete you can navigate back to the Overview section to keep an eye on your in review, "Pending" Registration.