Using our built-in phone system, you can send out SMS broadcasts.
(NOTE - If you prefer to watch a video on the steps, scroll to the very bottom of this article.)
With just a few clicks, you can communicate with any of your leads. Because of FreedomSoft's fully integrated phone system, many of our users are able to cancel other 3rd party phone services and manage everything inside of one account keeping them more organized, efficient, and profitable.
SMS broadcasts require you to already have a list of prospects/leads with phone numbers.
You can use the Lead Finder tool in FreedomSoft to generate a list of prospects.
Once you have that list, you can then run a Skip Trace in FreedomSoft to try and identify phone numbers. (Numbers are not recorded in public records so you'll need to skip trace the list in order to obtain them.)
Or, if you already have a list of leads with phone numbers, you can Import them and then use FreedomSoft to start the marketing process.
Creating an SMS Broadcast:
1) Once you are ready to send out a broadcast, go to the My Campaign page in the Leads tab and click into the Campaign where the leads live that you intend to text.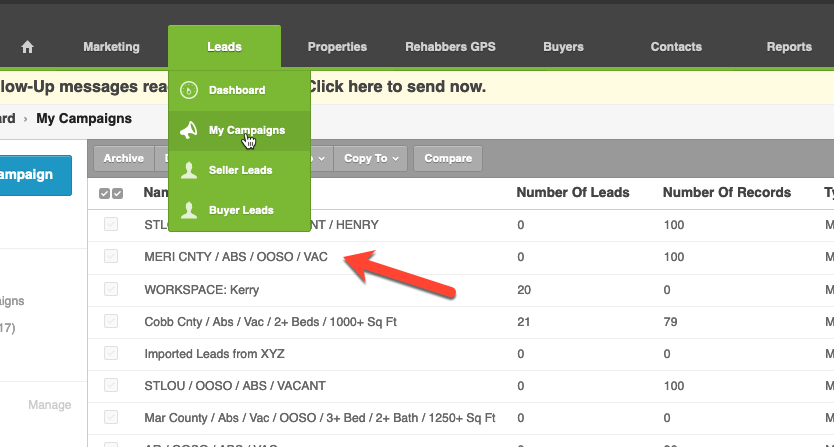 2) Click the "View All" button to access all of the records/leads in the campaign or you can click on a "Status" to select the records/leads currently assigned to a particular status.

You'll need at least 1 phone number linked to the campaign which you can do by selecting them from the Phone Numbers drop down on the right side of the page.
(If you don't have a phone number in the account yet, click HERE.)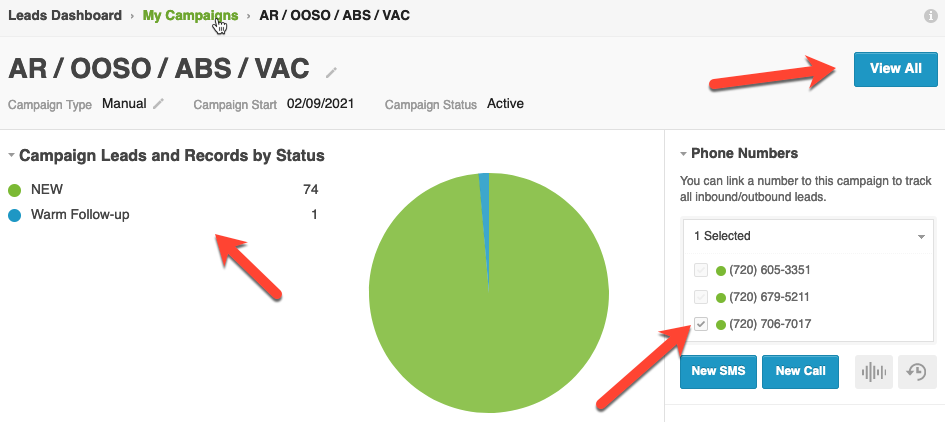 **A few things to note...

- You can assign multiple numbers to the same campaign.
- Each number can only be assigned to 1 campaign at a time. This is how FreedomSoft keeps your leads organized for you as they come in.

- Text broadcasts are limited to 150 text messages per day, per number. Based on how many people you plan to reach out to, you may need multiple numbers tied to your campaign(s). The reason for this is phone companies have started to flag numbers that are sending more than 200 texts per day. The limit in FreedomSoft is in place to help you get more messages delivered.
3) Check the records/leads you would like to generate a broadcast for. If you would like to select all, click where it says "Select all" in the blue banner.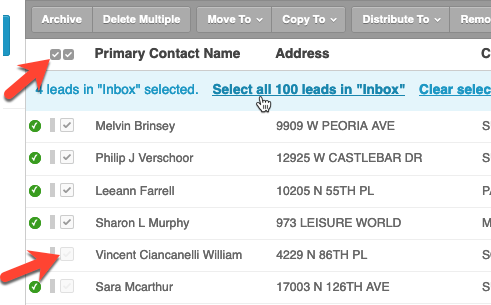 4) Go to the "More Actions" button (Big Orange Button) and click "New SMS Broadcast".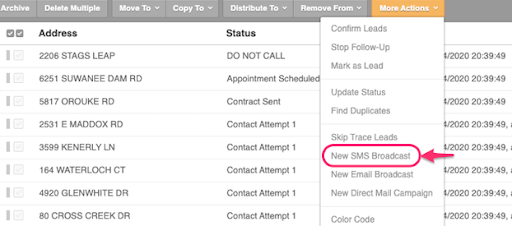 5) You'll need to Confirm the records/leads before they can be included in a broadcast text or email. Be sure to read through the paragraph that appears.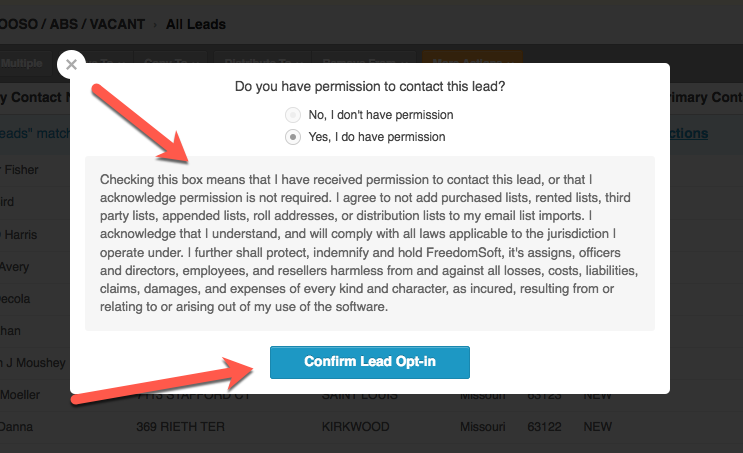 6) Once confirmed, you'll then be taken to a window where you can set up the actual message that you want to send.
Make sure your broadcast is coming from the correct campaign or phone number. By "correct campaign", we mean the campaign where the records/leads currently live.
Type your message using Merge Fields and FreedomSoft's Spin Text technology to add variations to your messages. The reason for this is that phone companies have started to not deliver text messages when too many identical messages come from the same phone number. FreedomSoft has technology in place that will automatically generate unique messages for you. You can see how this works HERE.
You have the ability to send the text broadcast to Mobile Numbers Only by checking the box pictured below.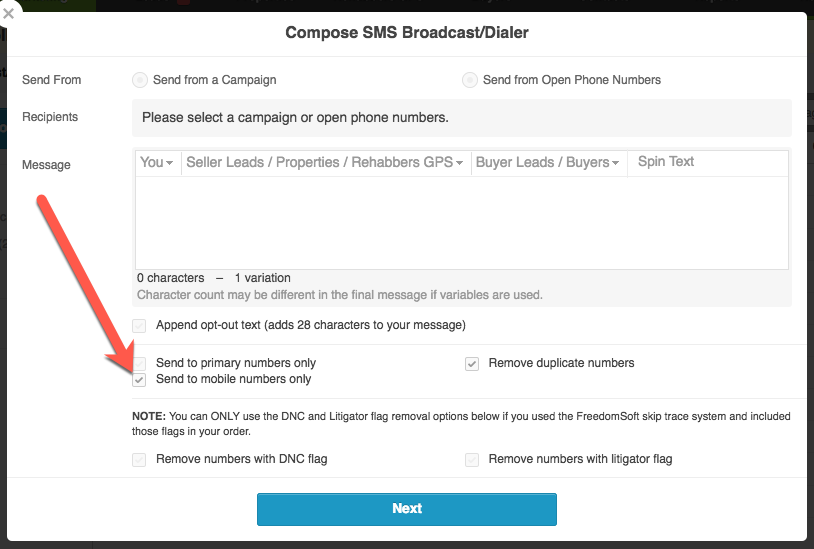 You can also remove the DNC and Known Litigator flagged numbers assuming you kept those features on when running the skip trace in FreedomSoft.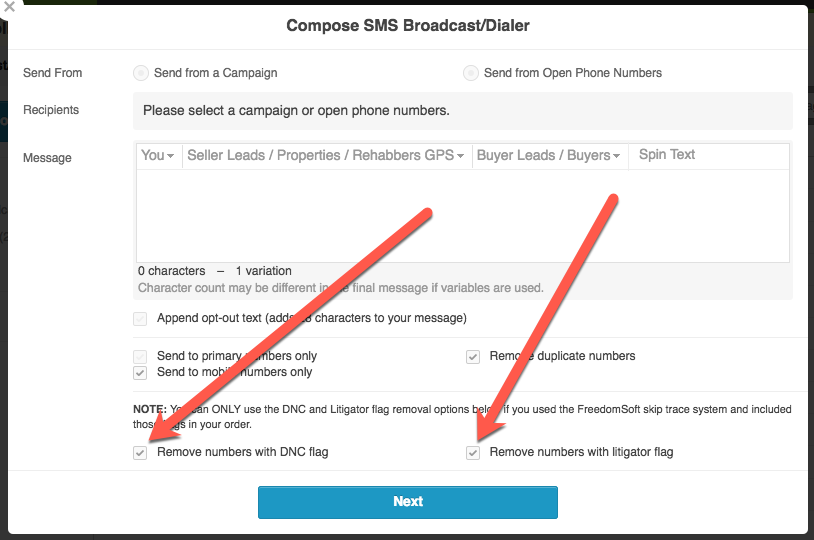 Do not click the "Send to primary numbers only" option as you won't know what the primary numbers are when sending out your first text broadcast. The Primary numbers can be added to your records/leads once people start to reply and you figure out which number is correct for contacting each record/lead.
7) Your broadcast will now queue up. To send the messages, simply click the blue Send button for each message.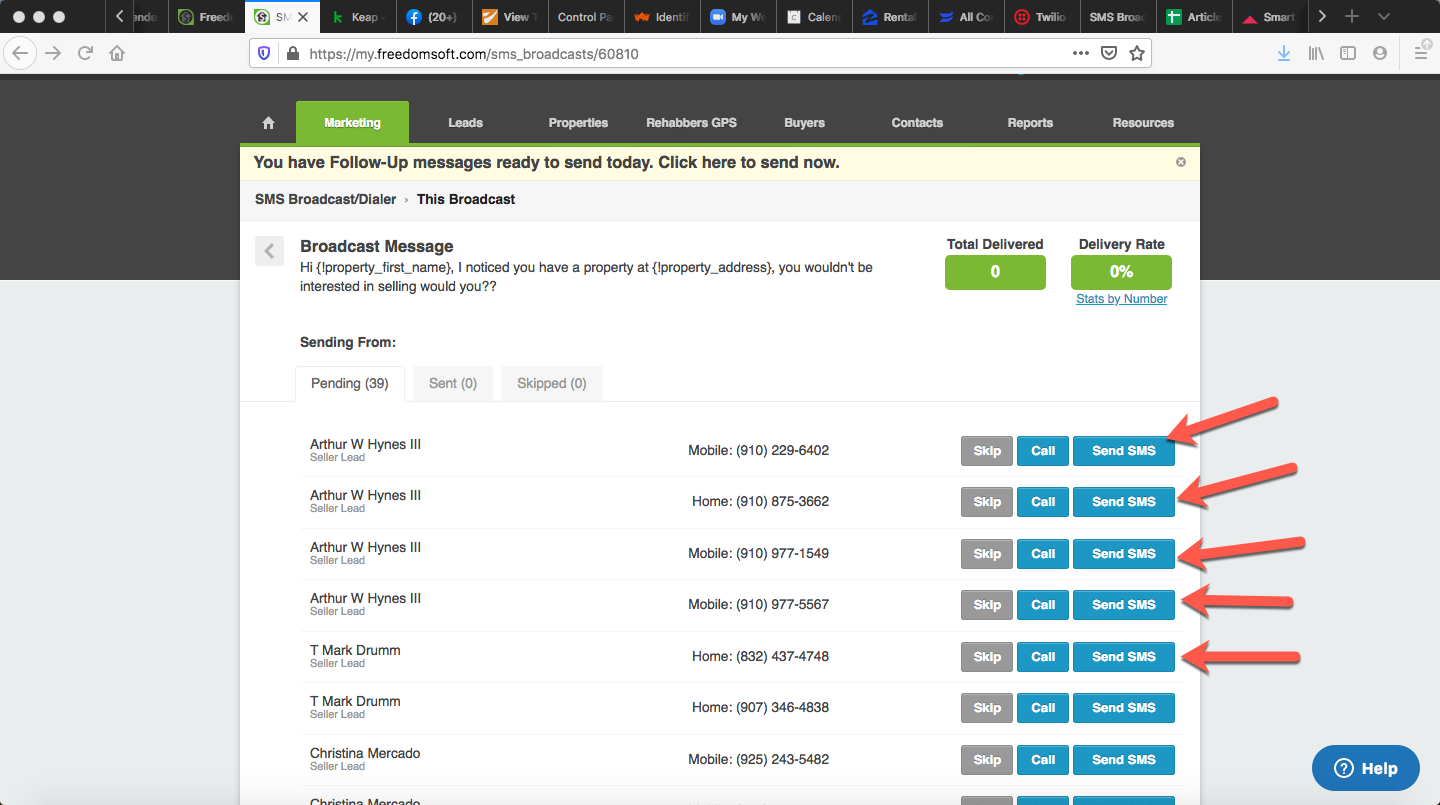 Because of TCPA (Telephone Consumer Protection Act), FreedomSoft will not robo-text as it simply isn't allowed. What FreedomSoft will do is create all of the messages and than make it very simple for you to send them.
8) All replies can be tracked on your Notifications screen. Click the little cell phone icon at the very top of the screen to access this page.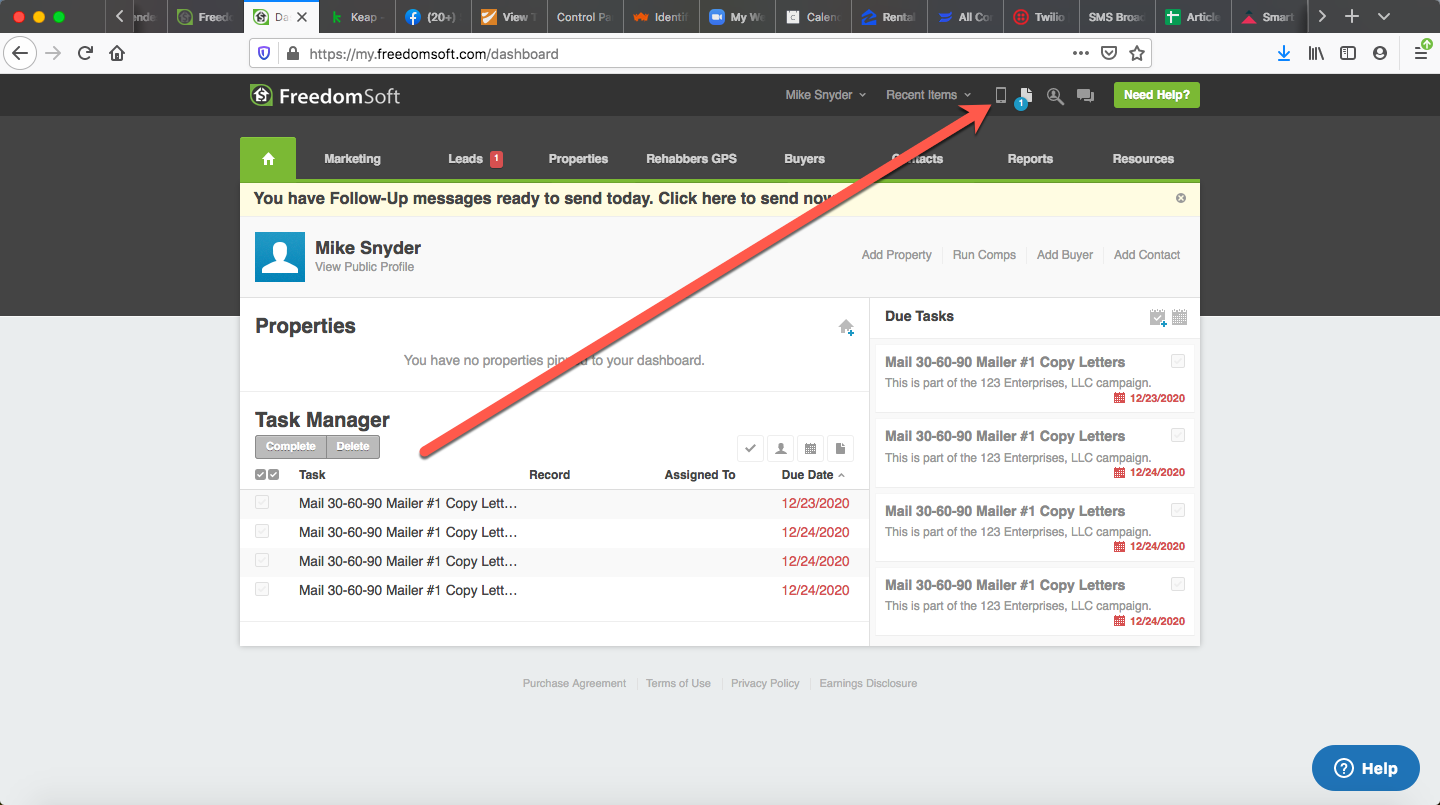 Click into any of the replies on the Notifications screen and you will be taken to the Communications page of the lead record where you can then reply by text message. Or, click on the phone number and you can call the lead back as well.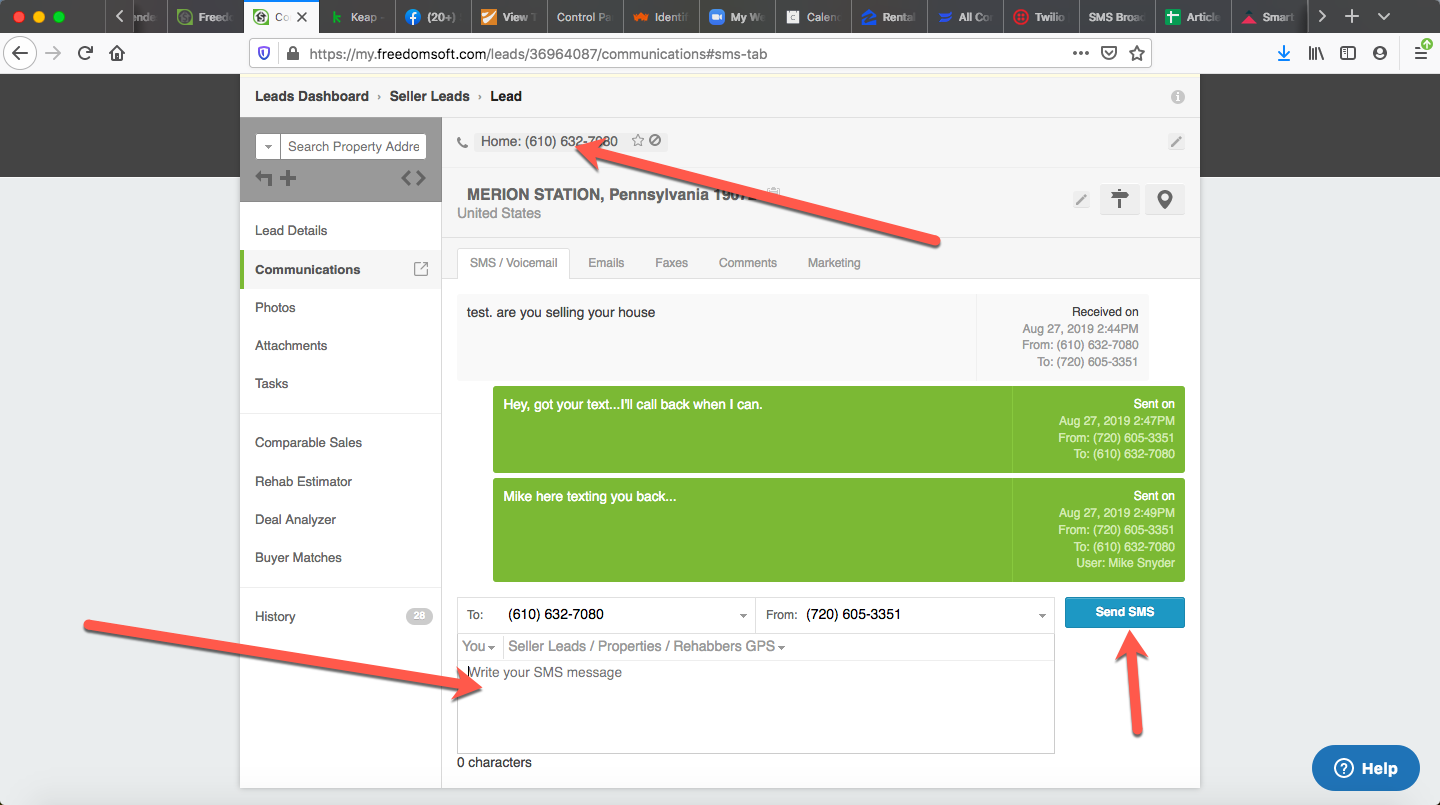 9) FreedomSoft works best when you manage your leads to Status. Check out the 2 resoruces below for best practices when it comes to using FreedomSoft's lead management tools.
Using Statuses: CLICK HERE
How Rob's Team Uses Each Status: CLICK HERE
**Note, text broadcasts are limited to 150 texts per day, per phone number. This functionality exists is in FreedomSoft to combat carriers from flagging your numbers and not delivering your texts.
Because of this, you are able to connect as many phone numbers as you'd like to each of your lead campaigns in FreedomSoft.

As phone providers have become more pro-active in flagging numbers, we have implemented technology in FreedomSoft to help you get more text messages delivered and we will continue to do so.

Here is a video walk through of the process if you prefer to see the steps done live as well.

_______________________________________________________________________________________________________
For an update to our current understanding of best practices when it comes to SMS/Text messaging, CLICK HERE.