Contact information is not recorded in public records when real estate transactions take place. Because of this, real estate investors use skip tracing to find the phone numbers and/or email addresses associated with their leads.

Skip tracing is such a powerful and effective tool that we built an internal skip tracing system right inside FreedomSoft for you.
Running a Skip Trace:
1) To queue up a Skip Trace, navigate to the list of records/leads you are wanting to do your search on.

2) Check the leads you are wanting to run the trace on. Once selected, hover over the big orange "More Actions" tab. Click "Skip Trace Leads".

3) Drag and Drop corresponding FreedomSoft fields to match the fields that the skip trace search will use to find information. Click "Confirm".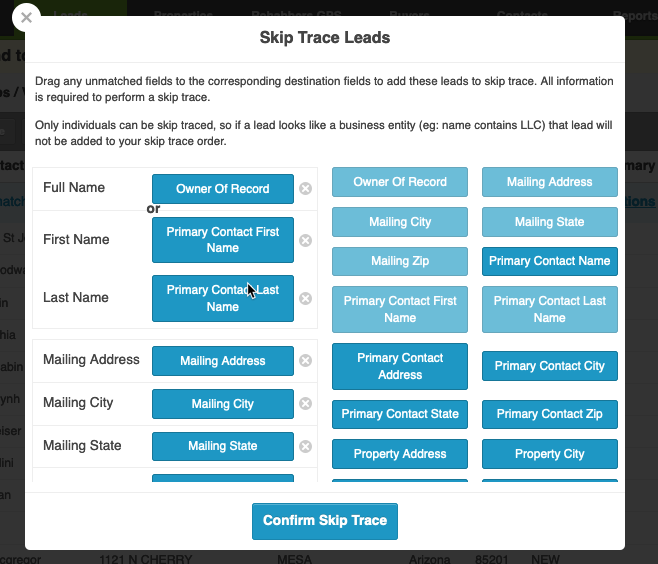 4) Select the "Skip Trace" icon in the top right of any FreedomSoft page. Your leads will appear here. Click "Skip Trace Leads" to proceed to the Order Setup page. Click "Purchase Additional Credits" if you need to refill your Skip Trace Credits.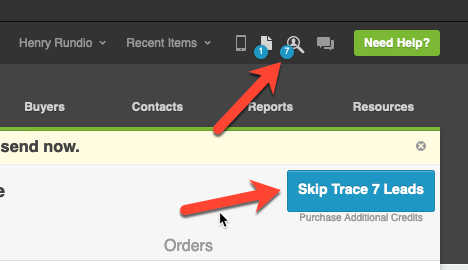 5) Setup the order by checking any additional features you want included in the skip trace. For example, our internal skip tracing system has the capability to scrub for DNC (Do Not Call) and Litigator flags so that you have up to date info on the numbers found in the search.
6) Select "Next Step" then "Submit Order"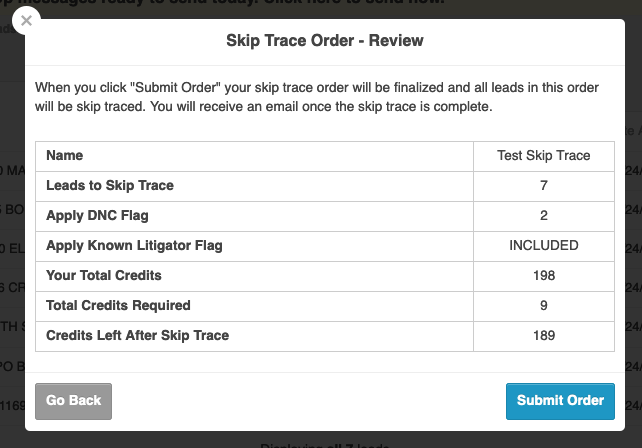 7) The Skip Trace will now run and you will see the status and results in the "Orders" tab of the Skip Trace area. The results will now appear on each lead record you skip traced!

Want to see skip tracing live? See below!