FreedomSoft's Websites are very easy to set up, create, and launch. In this tutorial (training video #1 at the bottom) we will show you the step by step process.
1) Go to the Settings page in your account and click to Websites on the left side of the screen.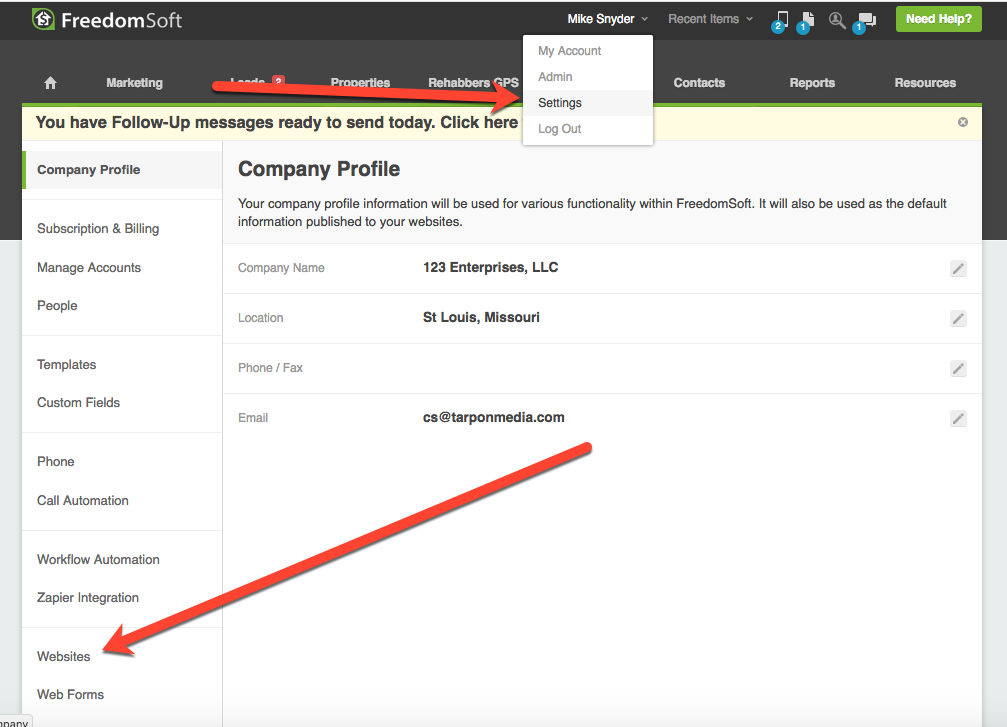 2) Click the large, blue Add Website button on that page and you'll see this pop up appear.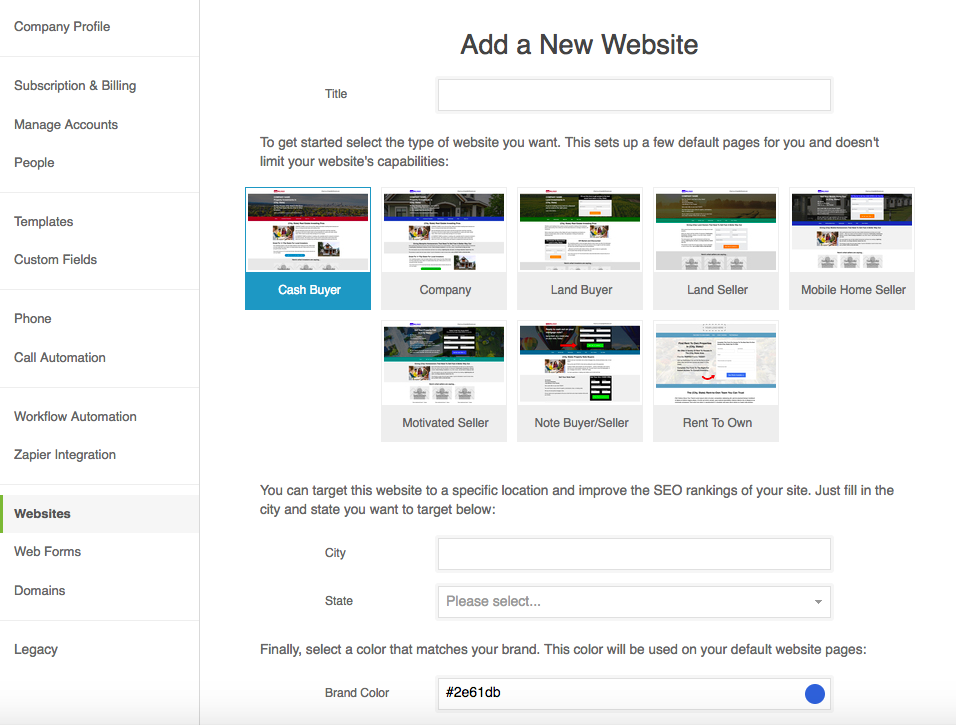 - Add in a Title. (Note - the title is really just for you to keep track of the site so there's no need to over think this step. Something like Denver Motivated Seller Site or Phoenix Buyers Site will do just fine.)
- Select the website template based on the type of website you are looking to create.
- Enter the primary City and State where you plan to use this site for your business.
- Click on the little blue circle to then choose a color for your site or you can copy and paste a color from a company logo if you have one in order to match the color palette of the site.
- Click the blue Create Website once finished.
3) In a matter of seconds, FreedomSoft will launch multiple, templated pages for you that are set up and ready to be used.
There will be lead capture pages already in place with web forms already created and tied to your account. You can find these pages by looking for the "Step 1" and "Step 2" page names.
The Step 1 page will be where you initially send buyers and sellers. When they fill out the web form on the Step 1 page and click Submit, they'll be taken to the Step 2 page to fill in a second web form. The Step 3 pages are a thank you page that confirms their information has been received.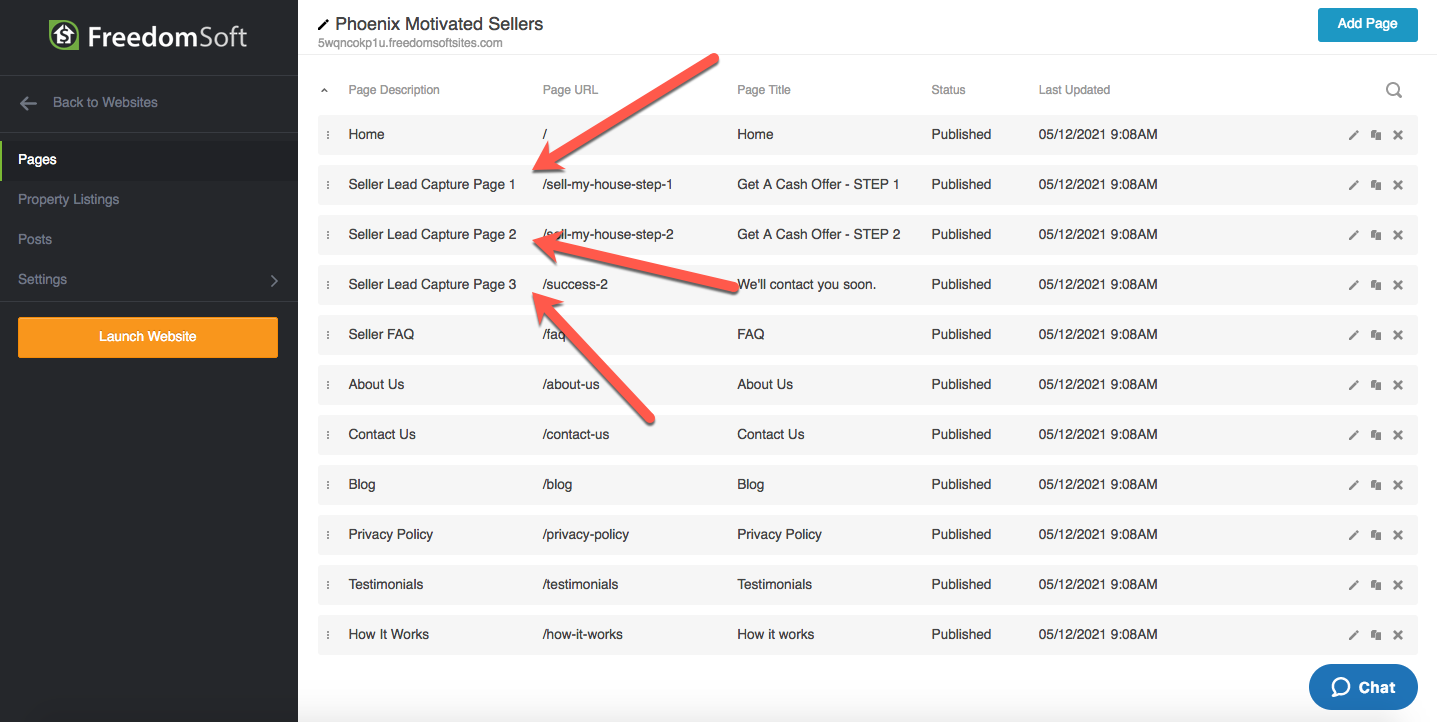 4) FreedomSoft sites are self hosted which means they are online immediately when you launch one. You can find the exact link here to the right of the FreedomSoft logo at the top of the screen.

5) You'll notice the big orance, Launch Website button on the left side of the screen. Once you have gone over your website pages and made your desired changes, click this button and your website will officially be online and ready to use.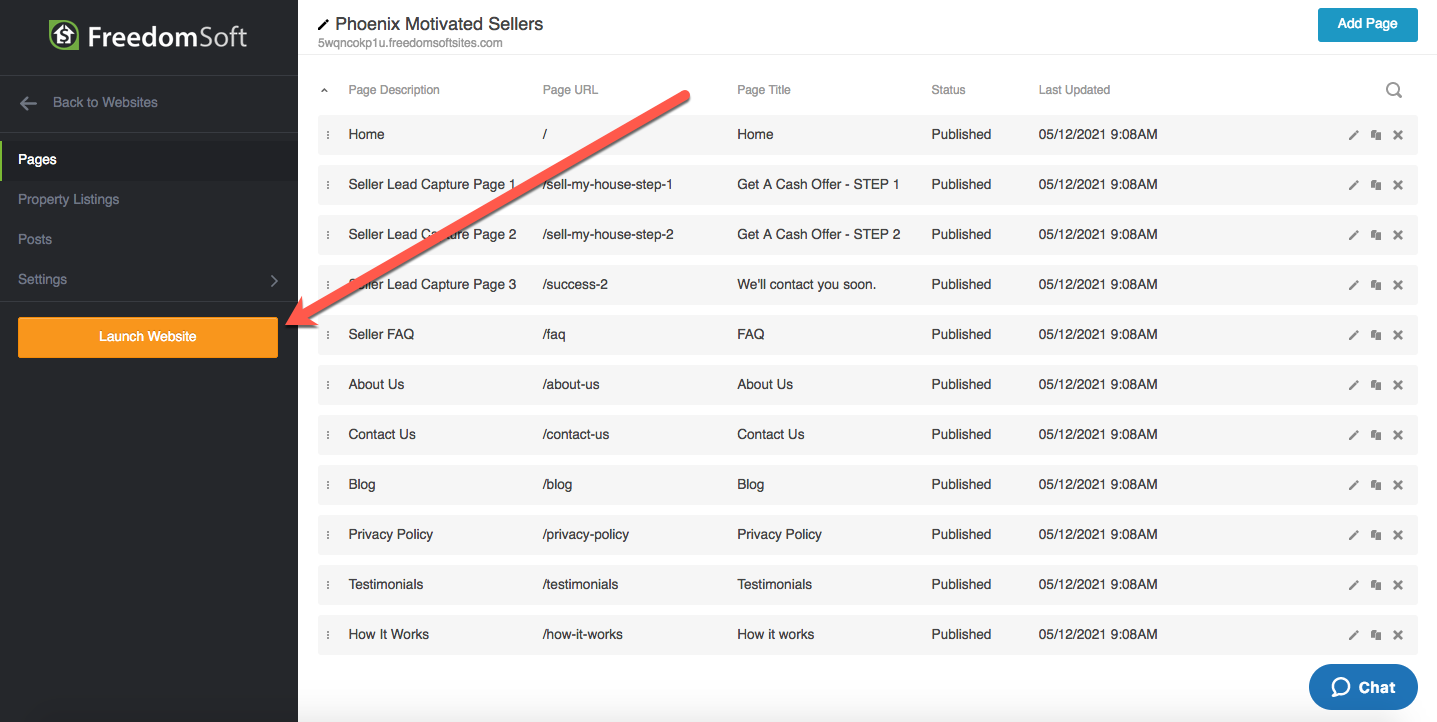 6) Now that your site is set up and online, there are multiple links to other resources that you'll likely be interested in viewing.
- To edit the content in your website (2nd Tutorial Video), CLICK HERE.
- To connect a custom domain that you own, CLICK HERE.
- To Add your logo to your site, CLICK HERE.
- To list a property for sale on your site, CLICK HERE.
Watch this tutorial video to get a good idea of how to start setting up your websites!
***Note, now that Website Templates exist you no long have to choose the Website "Type", per this video. You now have multiple template options to start from.