Not to be confused with the Duplicate Lead Manager, the Quick Merge Action was created to run on a single prospect or lead record. When ran on the single record, the Merge feature will go out and quickly find any similar records that you may want to merge together.
A very popular scenario can happen when a new lead generates because of your marketing (direct mail, call backs, online ads, etc) and FreedomSoft is not able to match the new lead with the existing prospect that lives in one of your lists. The likely reason this happens is because the original prospect record does not have a phone number on it. If it did, the inbound lead would have just linked together automatically.
So the end result is a new lead in the campaign with only a phone number, name, or address on it. And the original prospect record back in the original list with all the rest of the good information. The obvious next step is to combine them.
Merging Matching Records
1. Navigate to the subject record. This will more than likely be the new lead that recently generated.
2. Select the "Big Orange" More Actions Button. Then Click Merge Records.
**Make sure you have entered in at least one of the field identifiers that the system goes and find similar matches on.
Primary Contract First & Last Name
Property Address
Phone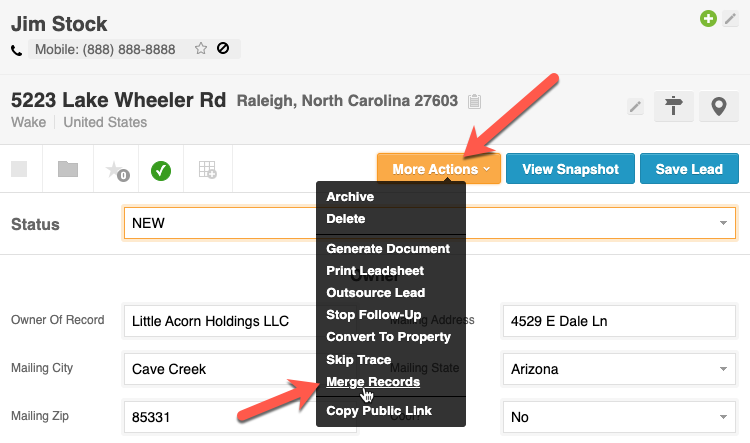 3. The system will now search for matches and then display the results. Select one, or multiple results to merge and combine into.