Duplicate Leads got you down? Learn how to use Freedomsoft's Duplicate Lead Manager. You can not only find any duplicates in your account but then you can also manage them with multiple merge options. Duplicates are a reality as a real estate investor which is why we made managing them super simple inside of FreedomSoft.
Our tool cleans up your lists, campaigns, and workspaces and make everything easier. You can search for duplicate records / leads in Seller Leads, Buyer Leads, Buyer List, & Contacts.
Managing Duplicates:
1) Navigate to your List or Campaign
2) Check your records then Select "Find Duplicates" in the orange More Actions Tab.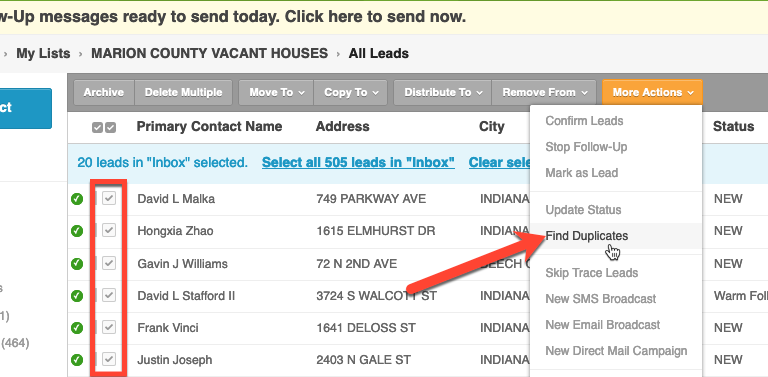 3) The duplicate lead finder will prompt you to select the field you want to use to search for duplicates:
Property Address
Mailing Address
Phone Number
Primary Contact
Owner of Record
Once the duplicate finder completes its run, you'll see a display of the results on your dashboard offering you several options.
You can re-run the search
You can view duplicate leads
You can merge duplicate leads
You can delete duplicate leads
4) If you view the duplicate leads, the page will refresh to a list view and automatically group the duplicates for each reference.
5) Merging and Deleting duplicates gives you the option to use either the oldest lead, or the newest lead as the control.

If there is no data in a field on your control record, but there is data in that field on a merging record, the merging data will be placed into that previously empty field. When merging data, you'll end up with one complete record merging all information together.
And, all of your communication history, documents, attachments, photo's, and tasks will be merged into one record.