In this video, we show you how to set up and then send out a text or SMS broadcast from FreedomSoft using our built-in phone system. You'll see how simple it really is to communicate via text message with any of your leads with just a few clicks. Because of FreedomSoft's fully integrated phone system, many of our users are able to cancel other 3rd party phone services and manage everything inside of one account keeping them more organized, efficient, and profitable.
Prior to sending your SMS Broadcast if you haven't imported leads you will want to get new leads first.
1. Marketing - Lead Finder.

2. Enter Search Criteria.
3. Once results populate you can select just the first page or all pages.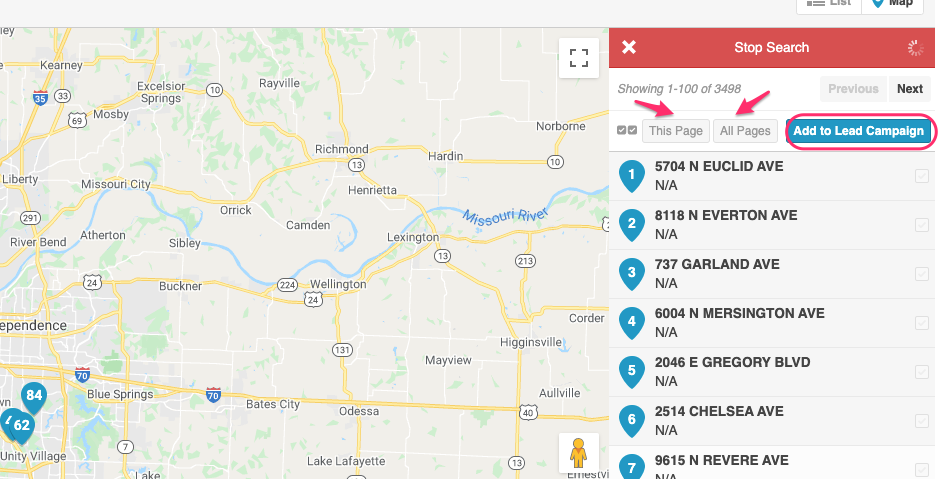 4. Click Add to Lead Campaign and either select the existing campaign or create a new one.
5. Next, navigate to your Leads- My Campaigns and click "All Leads".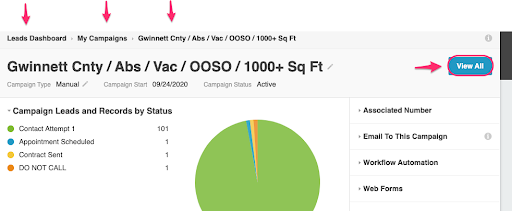 6. First, you will want to select all of the leads (checkboxes) you would like to Skip Trace. Click the big orange button and Skip trace. Here you will match fields for example: owner of record = full name by dragging and dropping the fields (watch video)
*if you included absentee owners in your search you will want mailing address vs. property address
7. From here you will go to the Magnifying glass in the upper right and order your skip trace.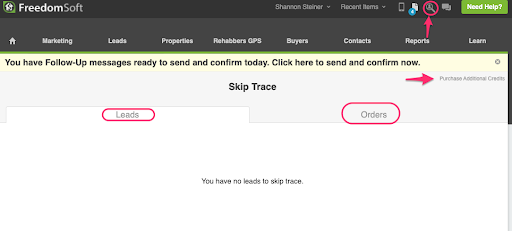 8. Once you've skip traced you will go back to your campaign and all leads. Select the ones you would like to text and click the big orange button and SMS Broadcast.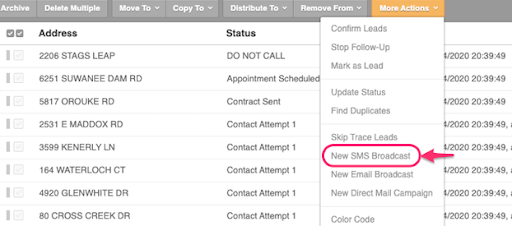 9. Yes to opt-in and then set up text broadcast - select number to send from ( you always want to send from the number that is connected to the campaign)
10. Select Merge Fields.
11. Leave "remove duplicate numbers" checked and select to send to "mobile-only".
12. This Queues up messages and for TCPA compliance we will not Robo text. To send you will go down the list and click send SMS which will only take a minute but does require HUMAN action

*Marketing tab- SMS broadcast/dialer it will show you the ones you have pending and ready to send!