Follow these instructions if you are needing to set up your first Deal Negotiator connection, or if you are looking to spin up a 2nd, 3rd, etc.
Creating A New Deal Negotiator
1. From the settings area, select "Deal Negotiator" from the left side pane. On the next page you will see or current links (if any). Click Add Link to start.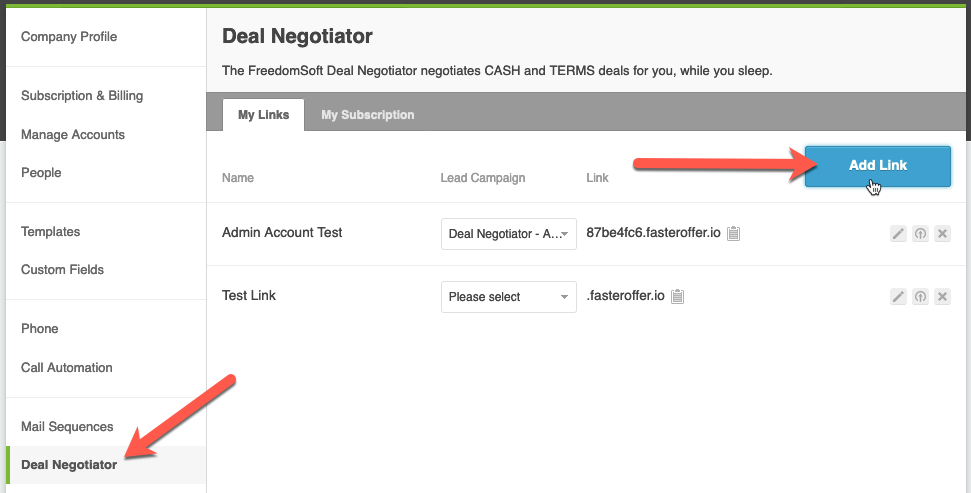 2. Next type a name for you negotiator and select the template you are wanting to use. The Negotiator Template usually pertains to the types of leads you are sending to this link. (Houses, Land, etc). For example, choosing the house buying template will make sure the negotiator walks through a houses buying scenario with the seller.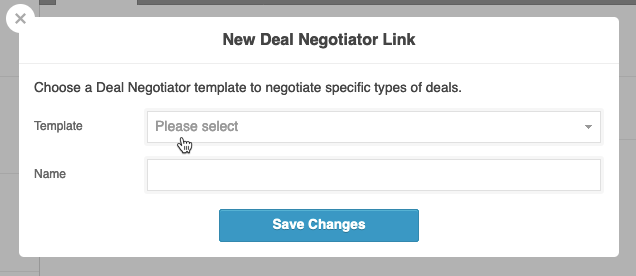 3. The last step is to finish the edit page of your new Deal Negotiator link. From here you get edit:
Name: This is for easy identification
Max Cash Offer: This will maintain a cash offer scenario for the seller
Max Terms Offer: This will transition the negotiator to a terms offer for the seller
Subdomain: This is to choose a custom subdomain to associate with your and your company. By default we give you a auto generated subdomain.
Forwarding Email: This will be the email that gets notified when a lead lands through the negotiator.
Logo: This is the image that will sit at the top of your Negotiator landing page.
Favicon: This is the small image that will sit in the URL tab of the browser.