Adding numbers to your "Do Not Call" list will prevent any user in your FreedomSoft account from calling them.
Marking a number as "Do Not Call":
Option 1
1) When viewing a lead record in FreedomSoft, you can select the "do not call" icon to add that number to the internal list.

The number will now be highlighted in red on the lead record's page.

Option 2
1) You can also add multiple numbers to the DNC list by navigating to the "Phone" settings area.
2) Hover over your name in the top right of any screen.
3) Click "Settings"
4) Click "Phone" in the left pane.
5) Select the "Do Not Call" in the options at the top.
Here you can add any number to the list, as well remove current numbers from the list.
Click the blue + icon and then add each number in the pop up window that appears.


6) You have also options to both export your FreedomSoft DNC list as well import a DNC list from another system by clicking on the options in green.

One of the common questions asked is if numbers on the FreedomSoft Do Not Call list can be removed and the answer is Yes.
For numbers that you and/or your team members have added to the FreedomSoft Do Not Call list, simply click the X pictured below to remove them.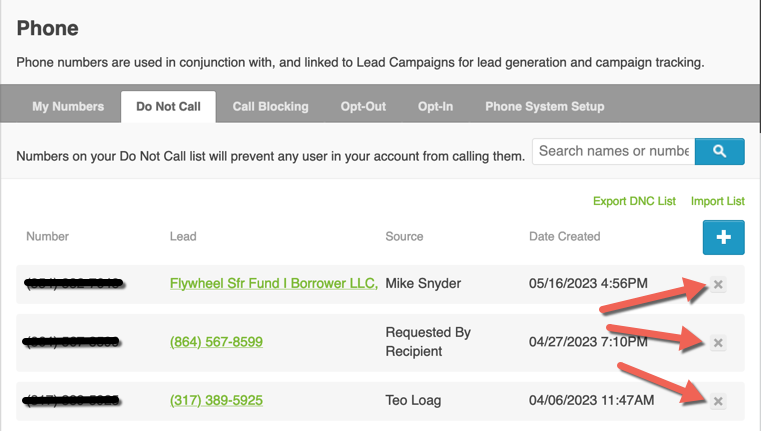 Note that if one of your customers replies "Stop" or "Unsubscribe" to one of your texts, they will be added to the carrier's Do Not Call list and you will not be able to remove or undo this action.
The customer, in this scenario, would need to send another text with the word "Start" or "Unstop" in order to resume communication from your FreedomSoft number.